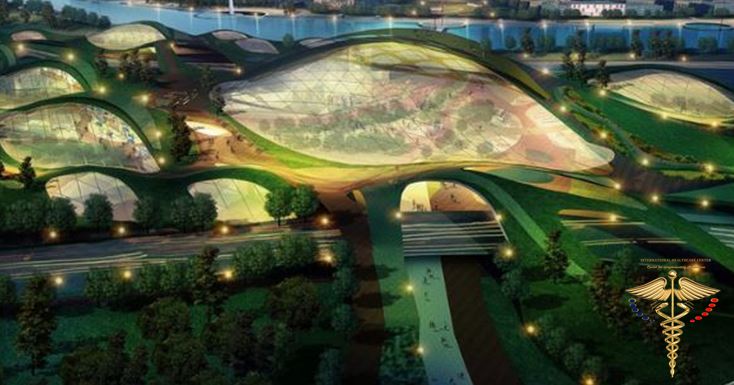 INTERNATIONAL HEALTHCARE CENTER MALAGA
Center for complementary healthcare & integrated medicine

The International Healthcare Center Málaga will be a combination of the best of two different worlds of healthcare. The western healthcare system and the Traditional Chinese Healthcare system. Combing thousands of years of experience in the field of healthcare to help mankind. 
How do you go about advancing health care through your work in Integrative Medicine? UCLA professors talk about their work and how integrative medicine can improve healing and well being.
Integrative Medicine is used in a wide range of medical disciplines for a variety of symptoms and illnesses. These UCLA clinicians and researchers from the Collaborative Centers for Integrative Medicine have dedicated themselves to improve treatment and enhance wellness for patients through clinic care, research and education. For them, Integrative Medicine offers creative solutions to the shortcomings of conventional Western medicine. They talk about the shift in paradigms as the key in conducting research in IM, and studies on brain and body interactions in relation to stress and pain. They suggest a reform in the certification policies to enable qualified healthcare providers provide treatment. They introduce various holistic approaches to patient care, and stress the importance of education for practitioners and the public.
Professor Liu Ganzhong discusses the role of traditional Chinese medicine in the health system, and how its incorporation into modern medical practices may prove to be more effective in the management of certain diseases.
Professor Liu Ganzhong is a pharmacologist and one of the pioneers in integrative medicine in China, disseminating scientific knowledge of herbal medicine to the West through his research and publications.
INTERNATIONAL HEALTHCARE CENTER MÁLAGA
The investment will be done by the Chinese Government and some private Chinese Investors. 
Several professional medical institutions and Universities from China, will take part in this project and offer their professional
support. CEBDS is also in the process arranging meetings with professional organizations and companies from Europe that
also have an interest to play a role in this center.
The Center will have the following buildings and activities:
– Healthcare Center for Traditional Chinese Medicine (TCM)
– Healthcare Center offering western healthcare
– TCM Congress & Exhibition Center
– TCM University
– TCM Research Center
History background of the project.
In 2008, Robert de Vos (Chairman of the Europe China Foundation) and Director of CEBDS has met the Minister of Health H.E. Mr. Chen Zhu and the Vice Minister of Health Mr. Wang Guoqiang in the Great Hall of the People in Beijing. Mr. Wang Guoqiang is also the President of the State Administration of Traditional Chinese Medicine (SATCM) and has asked Robert to set up a TCM Center in Europe. For this reason, a Chinese delegation came in 2009 to Belgium to sign an agreement of cooperation. At the office of the Minister of Economic Affairs & Trade in Brussels, the agreement was signed.
Following the agreement with SATCM, CEBDS is initiator of the project, to build an International Healthcare Center in Europe, where Traditional Chinese Medicine and Western healthcare will be offered to the patients of Europe. A center for Complementary Healthcare and Integrated Medicine in one building, offering patients a choice of treatment. Daily practise will show that both treatments although with a complete different outlook and approach of healthcare, will be complementary to each other.
After years of research to find the best possible country in Europe to establish such center, we have selected the city of Málaga to establish this center. Madam Cheng Mingyi, representing the Chinese Government for this project, was invited by CEBDS to come to Europe and has visited several European countries. Several meetings were held in Belgium, the Netherlands and Spain. In Spain intensive talks have been held with the Mayor of Málaga and his team and with the Presidency of Andalusian Government.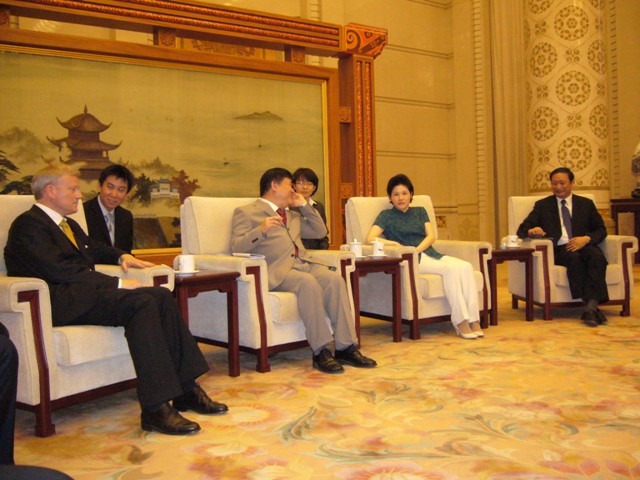 Meeting in the Great Hall of the People with the Minister of Health Mr. Chen Zhu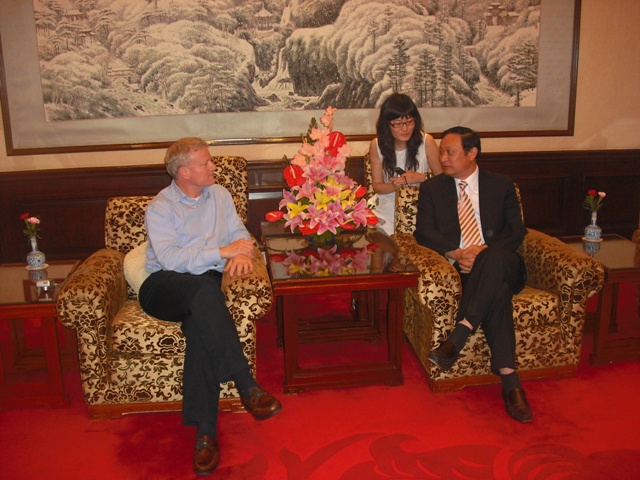 Meeting in the Diaoyutai with the vice Minister of Health Mr. Wang Guoqiang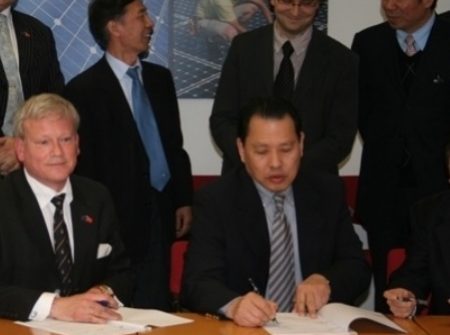 Signing cooperation with SATCM at the office of the Belgium Minister of Economic Affairs in Brussels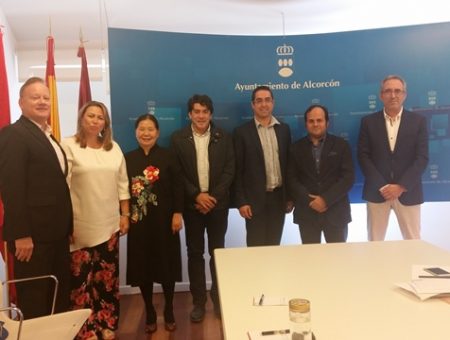 Cheng Mingyi and CEBDS at a meeting with the Mayor and Vice Mayor of Alcorcon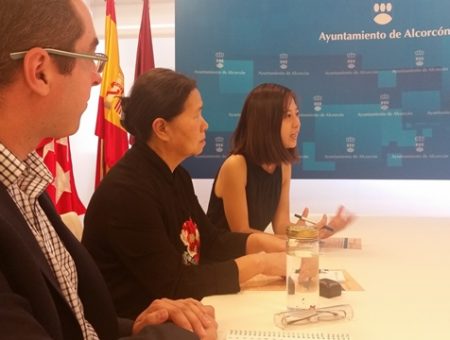 Cheng Mingyi and CEBDS at a meeting with the Mayor and Vice Mayor of Alcorcon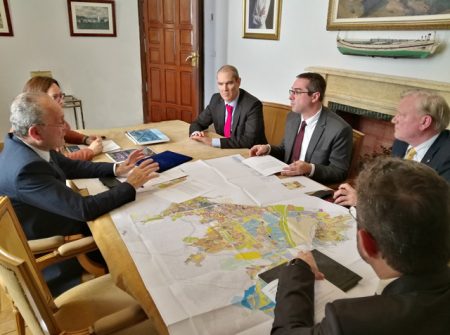 CEBDS at a meeting with the Mayor of Málaga and other members of the Málaga Government
Cheng Mingyi and CEBDS looking at Soestdijk Palace (the former home of the Dutch Queen Juliana) for a possible location for the center
SAME = Sociedad de Acupuntura Médica de España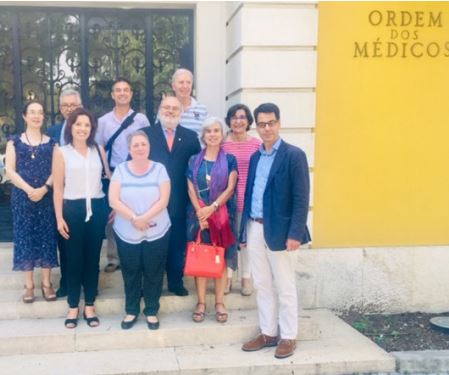 Secretary of SAME is Dr Antonia Sola Rodríguez, CEBDS Advisor for TCM. They promote a joint statement on medical acupuncture between Spain and Portugal Dr. Rafael Cobos, of the Virgen del Rocío Hospital, headed the Spanish delegation. They reject all the procedures of this matter that lack scientific evidence.
Picture right: Membros assistentes da SAME: Presidente: Dr. Beltrán Carrillo Manrique - Vice Presidente: Dra. Mª Antonia Sola Rodríguez Vocal Universidades y Formación: Dr. Fernando Salgado Blanco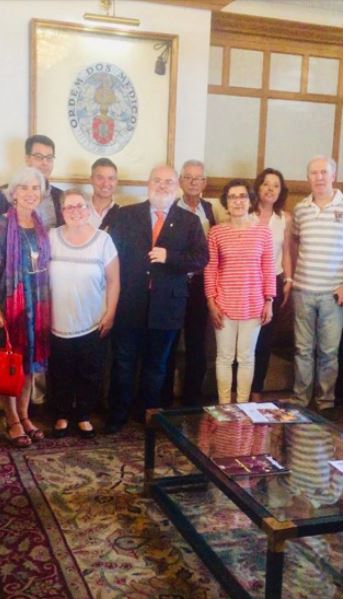 And, acupuncture applied in the medical context is a Medical Law, since:
■ 1. Acupuncture is not a placebo, as demonstrated in clinical trials and animal models.
■ 2. Acupuncture is an invasive medical technique that requires prior diagnosis and clinical evaluation, which can only be performed by a doctor.
■ 3. Medical acupuncture is "preventive" due to its neurophysiological action and its widely reported neuro-biochemical effects.
■ 4. Acupuncture has scientific evidence for its benefit, as evidenced by favorable studies published in journals of high impact on its efficacy and clinical effectiveness.
■ 5. Acupuncture is very effective in experienced hands with low potential for adverse events, which allows for lower drug use.
■ 6. Acupuncture is complementary to the usual treatments (pharmacological and non-pharmacological) and can even improve its beneficial effects.
■ 7. Acupuncture is not incompatible with other treatments and has no pharmacological interactions.
■ 8. Acupuncture is one of the safest medical techniques in clinical practice, provided it is performed by trained doctors and after thorough theoretical and postgraduate training.
■ 9. Acupuncture is an internationally accepted practice in the field of medicine, as found in the guidelines of the World Health Organization "WHO Strategy on Traditional Medicine – 2014-2023".
■ 10. Acupuncture is very useful in the treatment of pain and other conditions. It is practiced in most pain clinics in the world, in high-end hospitals in Europe and America. It is in the portfolio of services of the Pain Units of Spain and Portugal.
■ 11. Acupuncture has a favorable return, which represents an effective and safe procedure with lower costs than others, which represents a significant saving in health expenses.
At the Lisbon meeting, SAME published and provided the document "Synthesis of scientific evidence in acupuncture" and proposed its dissemination in Portugal to SPMA.
It was also agreed to initiate legal proceedings before the authorities of the European Union, calling for the protection of the community authorities against attacks by official institutions, private associations and the media.
So much so, that it will continue with the Postgraduate Training in Medical Acupuncture, as established in the Spanish University Pablo de Olavide, ensuring its scientific quality, in order to optimize the results of its application. To this end, joint meetings of continuous training between the two societies will be implemented.